File Storage, Management and Sharing
File Storage, Management and Sharing for iPad & iPhone
Sharing Documents with Other Apps
If an iOS app supports document sharing, that app will be able to access, manipulate, and share the contents of files directly within an InterConneX sharespace. This guide explains how to set up document sharing in InterConneX. It will also show how to open a document that resides in a sharespace and edit it within Pages.
When creating or editing a sharespace, you'll see a "Share with other Apps" setting on the final sharespace summary window. Turn this ON.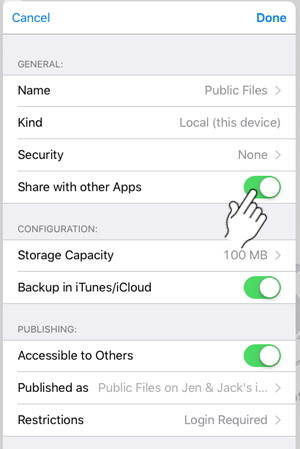 Open Pages. When you are in an app that supports document sharing, like Pages, you'll be able to take advantage of using the contents of the sharespaces you set up to share.
Tap on the '+' button in the upper left.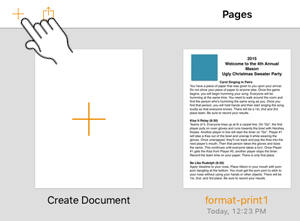 Tap on 'More.'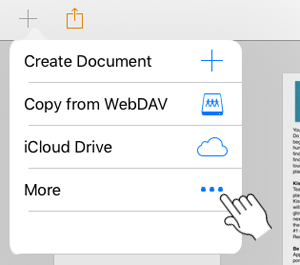 'InterConneX Documents' will be in the list of options. Tap on this to turn it ON. This will allow you to select from shareable InterConneX sharespaces.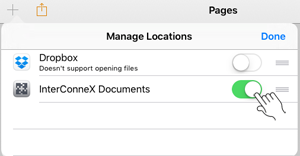 Now 'InterConneX Documents' is listed. Tap on that.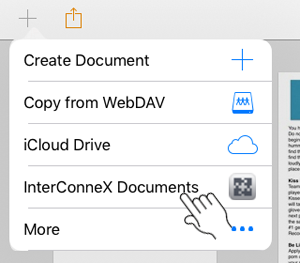 A list of sharespaces appears. These are the sharespaces that you have allowed to be shared. Tap on the desired sharespace so you can tunnel into it and select the document you wish to edit.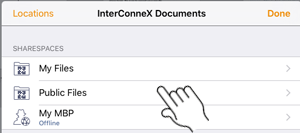 Once you find the document you wish to edit, tap on it.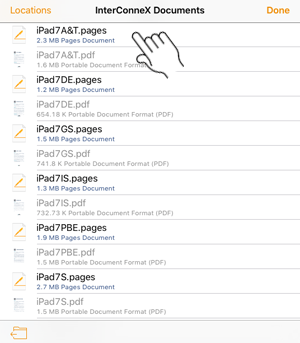 The document from the sharespace opens in Pages.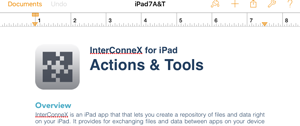 Edit the document. Here we just added a blue rectangle.

Switch back over to InterConneX.
Go into the sharespace that contains the document you've been working on.
You can see from the screenshot below, the thumbnail of the document shows the blue rectangle. You can also Quick Look it to confirm your edits.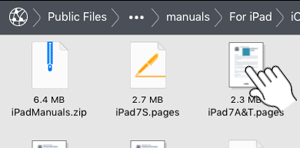 You just used Pages to edit a document that resides in a InterConneX sharespace! Any edits you make will be immediately available to you in the sharespace.