Synchronize. Backup. Bootable Backup.
Whatever your backup or sync scenario, ChronoSync has got you covered!
ONE APPLICATION - ENDLESS POSSIBILITIES!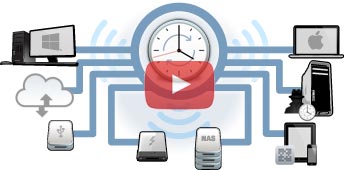 ChronoSync is an application for macOS that is capable of backing up your data, cloning your hard drive, synchronizing files between two computers and storing redundant backups in the cloud. All these tasks can be run manually via an interactive user interface or scheduled to run automatically when you're not using your computer.
Backup and file sync tasks can target just about any type of device that can be mounted as a volume on your Mac.
Furthermore, ChronoSync supports optimized file transfers with other Macs using ChronoAgent; file sharing with iOS devices via InterConneX; and can even backup and synchronize with various cloud storage services such as Amazon S3, Google Cloud and Backblaze B2.
From backing up your personal photos to safeguarding terabytes of critical data, ChronoSync is an efficient solution for individuals, small business and large institutions alike. Checkout the above video and then use the links on the left to further explore all the capabilities that ChronoSync has to offer.