Synchronize. Backup. Bootable Backup.
Whatever your backup or sync scenario, ChronoSync has got you covered!
THINK BEFORE YOU SYNC
For peace of mind, you can run trial synchronizations before synchronizing. Trial synchronizations analyze all the files but don't actually synchronize them immediately.
When a Trial Synchronization is performed, a list of file changes are displayed so you can see what happens before it happens. No other synchronizing application lets you manage your data so thoroughly.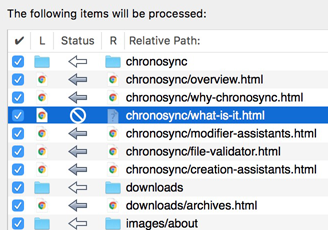 Trial synchronization results are presented in a sheet window, allowing you to investigate each file that ChronoSync wants to synchronize. Overriding or skipping each specific operation is a snap. ChronoSync will even estimate the space requirements for the synchronized files. When ready, just click "Synchronize" and let ChronoSync do all the work!