Synchronize. Backup. Bootable Backup.
Whatever your backup or sync scenario, ChronoSync has got you covered!
STAY IN SYNC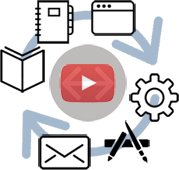 Do you need to store and work with the same files on more than one device? ChronoSync is the solution. ChronoSync synchronizes your files so when you switch devices, all your files come with you. When you switch back, just synchronize and your changed files are updated on your Mac. If the same files are modified in both places, ChronoSync presents a conflict, allowing you to decide which is the correct file to use.
No matter your synchronization scenario, ChronoSync has you covered!
What kind of synchronizations can ChronoSync perform?

MAC TO MAC - ChronoSync automates the old hassles of keeping your laptop and desktop computers in sync. If you are dealing with more than one Mac, no problem! ChronoSync can synchronize from a central Mac to multiple Macs. Whether it's a few files or tens-of-thousands, ChronoSync is up to the task.
MAC TO CLOUD - ChronoSync can bidirectionally synchronize with cloud storage services as if they were local hard drives or file servers. This allows several people to share a common set of files in the cloud. Changes to one file can be quickly distributed to all users. ChronoSync + Cloud is a very cost effective way to perform workgroup file sharing.

MAC TO IPHONE / IPAD - If you have a set of files that you need to keep synchronized between a Mac and an iPhone or iPad then the combination of ChronoSync and InterConneX is the answer. InterConneX is a free app that connects directly to ChronoSync running on a Mac. Select any folder on your Mac and synchronize all the files within directly to an iPhone or iPad so when a file changes on one device it will synchronize to the other device.

MAC TO SOMETHING ELSE - If you need to sync files with a Windows PC, between a shared NAS, a central file server, a shared external hard drive, or whatever you can mount as a volume on your Mac, ChronoSync has got you covered.