Synchronize. Backup. Bootable Backup.
Whatever your backup or sync scenario, ChronoSync has got you covered!

ANY TIME, ANY PLACE
Tasks can be scheduled to run any minute, hour, day, week, month, or any combination you can think of. If your Mac is off and ChronoSync misses a schedule, it will make it up the next time you start your Mac. ChronoSync can even wake up your Mac to run a scheduled synchronization or have the same task run at different time intervals.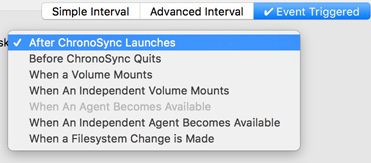 EVENT TRIGGERED SCHEDULING
ChronoSync supports event-based schedules. For example, you can trigger a synchronization to run when a drive is connected to your computer or when you mount a specific file server. Used in conjunction with ChronoAgent, you can also detect when other computers have joined your network and automatically trigger a synchronization or backup to occur with that specific computer!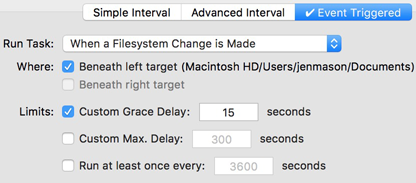 DON'T LIVE ON A SCHEDULE
You can configure your task to monitor the chosen target for changes and only run when changes have been detected. Relieve yourself of tedious time-based schedules and know that your changes are being backed up automatically as they occur.

LET CHRONOSYNC ASSIST YOU



Modifier Assistants allow you to choose some or all of your previously created tasks and apply mass changes to them. With the 'SIMPLE SCHEDULING' modifier, schedule one or more sync/backup tasks to run automatically. In addition to supplying a simple scheduling interval, you can optionally enable the 'prompt before running' and 'retry on errors' settings. The assistant will also check your scheduling configuration and suggest changes, if necessary.