Synchronize. Backup. Bootable Backup.
Whatever your backup or sync scenario, ChronoSync has got you covered!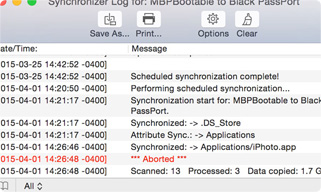 LOGS
Each task maintains its own log where details of every operation can be recorded. You choose how much information is posted to the log.
In addition to all synchronization operations, all scheduled synchronizations are logged so you can look back and see what scheduled syncs ran when and what the outcome was.
SYSTEM NOTIFICATIONS
Task completions and errors can generate user notifications that appear in the Notification Center. Keep track of what ChronoSync is doing while using other apps or even from the login screen!

EMAIL NOTIFICATIONS

Each task can target a different (or multiple) email account using custom subjects to facilitate email filtering. You can choose to receive a summary or detailed log information including all errors.

PUSH NOTIFICATIONS
Deliver push notifications to your iPhone via the ChronoMonitor app. Receive notice of completed backups and synchronizations — success or failure — nearly instantly while you're anywhere in the world!

LET CHRONOSYNC ASSIST YOU



Modifier Assistants allow you to choose some or all of your previously created tasks and apply mass changes to them. With the 'TASK MONITORING' modifier, modify various settings used to monitor the status of one or more sync/backup tasks. These includes: detailed logging, log mirroring, email notifications, push notifications, screen notifications and completion sounds.