Synchronize. Backup. Bootable Backup.
Whatever your backup or sync scenario, ChronoSync has got you covered!
How To Configure ChronoSync Push Notifications
1. INTRODUCTION
2. GETTING STARTED
NOTIFICATIONS OPTIONS
CHRONOMONITOR SETTINGS
TEST SETUP
3. CONCLUSION
4. WHEN THINGS GO WRONG
CHRONOSYNC HELP
TEXT GUIDES
TECHNICAL SUPPORT
The push notifications feature was added to ChronoSync v4.6. Push notifications work pretty similar to standard email notifications but instead of sending a message through an email server — and reading the sent message with an email client — a push notification is sent directly to your iPhone in near real time. Your phone will chime and the message will appear on your lock screen (if so configured). You can then use the ChronoMonitor app to read and categorize the notification.
NOTE: To make use of push notifications in ChronoSync, you need to install ChronoMonitor on your iPhone.
This feature is enabled on a per document basis, just like email notifications are.
NOTIFICATIONS OPTIONS [top]
In the "Options" panel, expand the "Notifications" pane and turn on the "Push notification to ChronoMonitor with ID" option. Here you can type or paste the unique ID code that is assigned to the copy of ChronoMonitor running on your iPhone.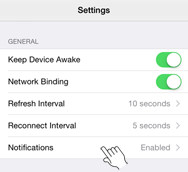 CHRONOMONITOR SETTINGS [top]
To get this ID code, fire up the ChronoMonitor app on your iPhone and click the "Settings" tab.
Next, tap the "Notifications" cell.





To allow ChronoMonitor to receive notifications, turn on the "Receive Notifications" switch. Note that you must have internet connectivity (either WiFi or cellular) when you do this. Also, your phone will prompt you, asking if you want ChronoMonitor to be allowed to receive notifications — say yes!
After turning this setting ON, there may be a brief delay as ChronoMonitor registers itself with the push notification server.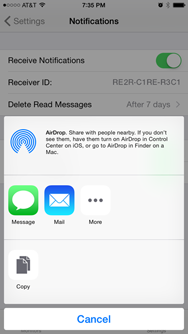 The "Receiver ID" cell contains the unique ID code that must be entered into the "Push notification to ChronoMonitor with ID" field in ChronoSync. To facilitate transferring this value to your Mac, you can tap the cell in ChronoMonitor and the following share dialog will be displayed:
This allows you to send the ID code via email or iMessage so you can copy/paste it into ChronoSync:

With the ID code entered, click the "Send Test" button. Note: ChronoSync must have an active internet connection when you do this. If all goes well, ChronoSync will report success:

You should also see the following message on your iPhone, nearly instantly: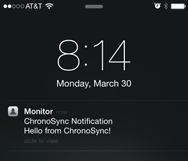 Congratulations! You have now configured push notifications in ChronoSync!
4. WHEN THINGS GO WRONG
[top]
Setting up notifications is pretty straightforward so the above steps should work flawlessly and without incident. However, we live in an imperfect world and sometimes things just don't work out as expected. If you encounter any problems following this tutorial, here's some tips that may help you get back on track:
From the "Help" menu in ChronoSync, type in the following search terms (minus the quotes):
"Push Notifications"
"Notifications"
The following ChronoMonitor guide may be helpful in understanding and setting up push notifications:
Contact our technical support team and just ask! We don't mind — we're here to help!