Synchronize. Backup. Bootable Backup.
Whatever your backup or sync scenario, ChronoSync has got you covered!
Simple Scheduling Assistant
1. INTRODUCTION
2. CHOOSE ASSISTANT
3. SELECT THE TASKS TO SCHEDULE
4. SPECIFY AN INTERVAL
5. ENABLE PROMPT BEFORE RUNNING
6. RETRY ON ERRORS
7. READY TO GO
8. SCHEDULES CREATED
9. CONCLUSION
10. WHEN THINGS GO WRONG
Any sync or backup task can be scheduled to run automatically at a pre-defined time. This assistant will create a 'Simple Interval' schedule for the selected tasks. These scheduled tasks will run in the background if you are using other apps. You do not need ChronoSync to be running for a schedule to run.
2. CHOOSE ASSISTANT
[top]
From the ChronoSync Organizer window, choose 'Use a setup assistant.' This takes you to all of the assistants ChronoSync has to offer. For this guide, choose 'Simple Scheduling.'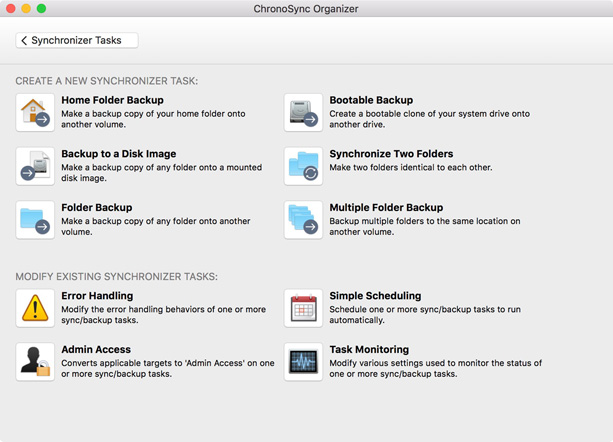 A summary panel will appear to explain the 'Simple Scheduling' assistant. Click on 'Get Started' to set up the assistant.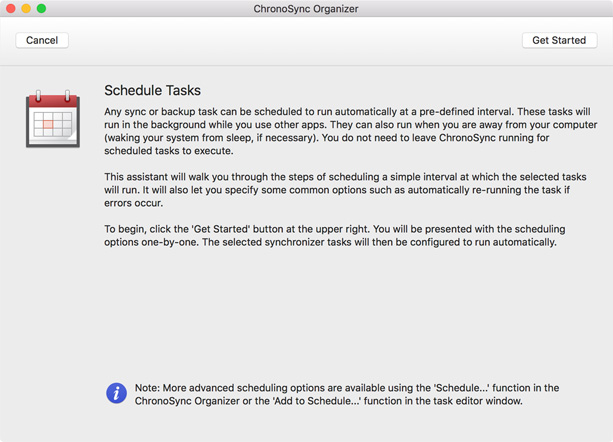 3. SELECT THE TASKS TO SCHEDULE
[top]
Choose one or more of the tasks in the list that you would like to schedule. These are all of the backup and synchronization tasks that you have created. Click on 'Next Step.'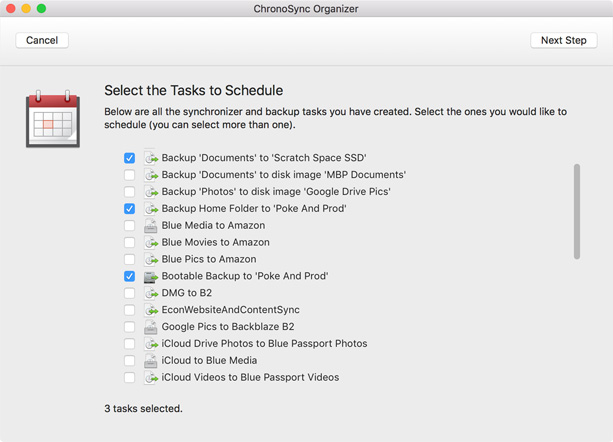 4. SPECIFY AN INTERVAL
[top]
Define a repeating interval for your selected tasks. What you choose will be how often those tasks will run. Click on 'Next Step.'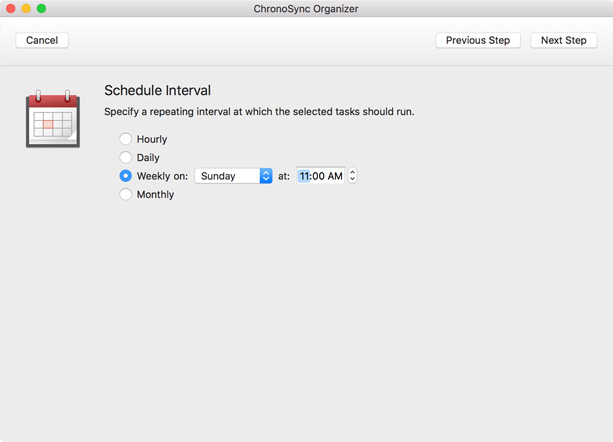 5. ENABLE PROMPT BEFORE RUNNING
[top]
If you scheduled your tasks to run while you are typically using the computer, you may want to turn this option 'ON.' When ON, a prompt will appear on your screen when the schedule comes due allowing you to skip the scheduled task or to continue with the schedule. You may want to skip it if you are presently working on the set of files that are included in that task and you wish to wait for your data to be in a more stable state before running the synchronization or backup. Click on 'Next Step.'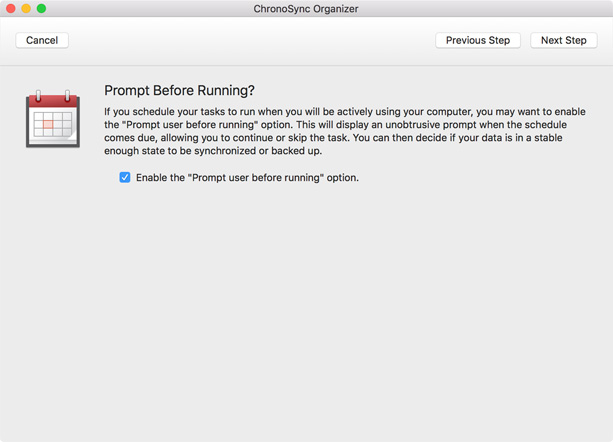 Sometimes errors occur during a scheduled task. It could be a lost connection with the remote target or files that are being modified during the synchronization. If you turn 'ON' the 'Retry on Errors' option, if an error is encountered during a scheduled synchronization, ChronoSync will run the task again in five minutes and will retry up to ten times until no errors are produced. Click on 'Next Step.'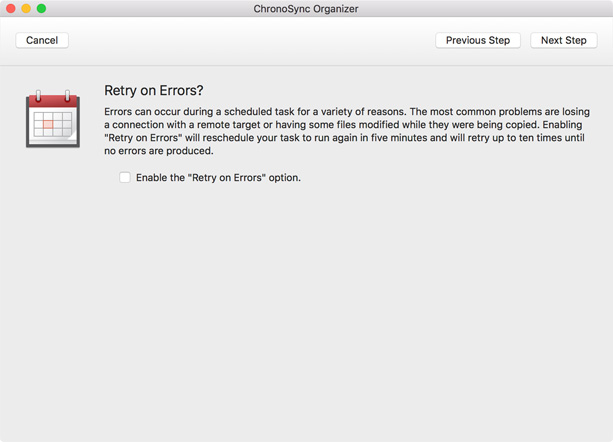 If you've chosen the desired scheduler options for your selected tasks, click on 'Create Schedule' to complete the assistant setup.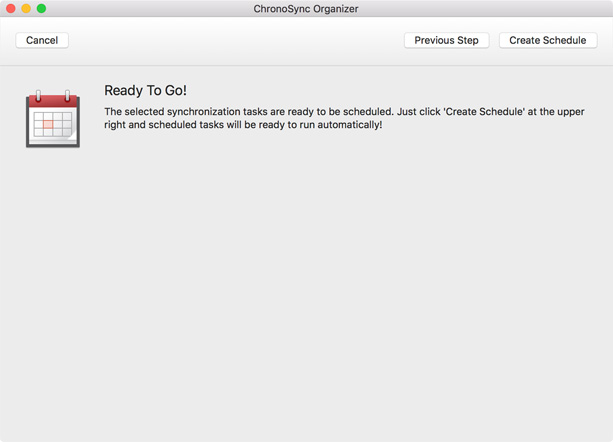 8. SCHEDULES CREATED
[top]
ChronoSync has created a new schedule with the settings specified during the assistant setup for every selected task. Once you 'Close' the assistant, you can choose to make any changes in the schedule editor and fine tune options.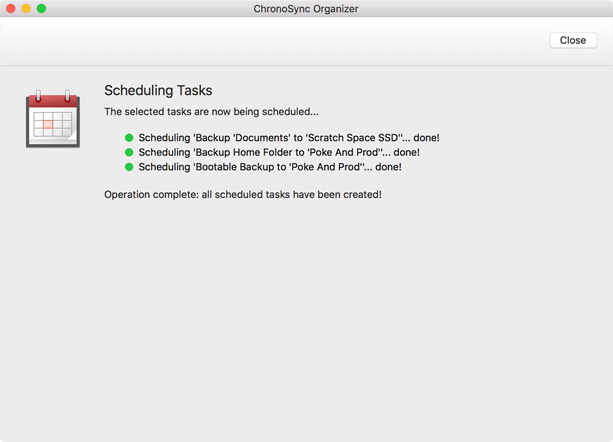 That's it! You now have a schedule defined for each task you selected. If you need to modify any of the scheduler settings, the schedule can be found in the Scheduled Tasks Manager.
10. WHEN THINGS GO WRONG
[top]
Using the simple scheduling assistant is pretty straightforward so the above steps should work flawlessly and without incident. If you encounter any problems following this tutorial or you have any questions concerning any of the settings, please contact our technical support team and just ask! We don't mind — we're here to help!