Synchronize. Backup. Bootable Backup.
Whatever your backup or sync scenario, ChronoSync has got you covered!
Admin Access Assistant
1. INTRODUCTION
2. CHOOSE ASSISTANT
3. AUTHENTICATE
4. SELECT THE TASKS TO MODIFY
5. TARGET SELECTION
6. READY TO GO
7. TARGETS CONVERTED
8. CONCLUSION
9. WHEN THINGS GO WRONG
Whenever you set up a synchronization task, the default connection method for targets relies on standard user access. If you need the ability to access system files or files owned by another user, you will need full administrative access. This assistant takes you through the steps to convert the selected tasks targets to use Admin Access. Note that ChronoAgent, cloud and file server connections cannot be changed and will, therefore, be ignored.
2. CHOOSE ASSISTANT
[top]
From the ChronoSync Organizer window, choose 'Use a setup assistant.' This takes you to all of the assistants ChronoSync has to offer. For this guide, choose 'Admin Access.'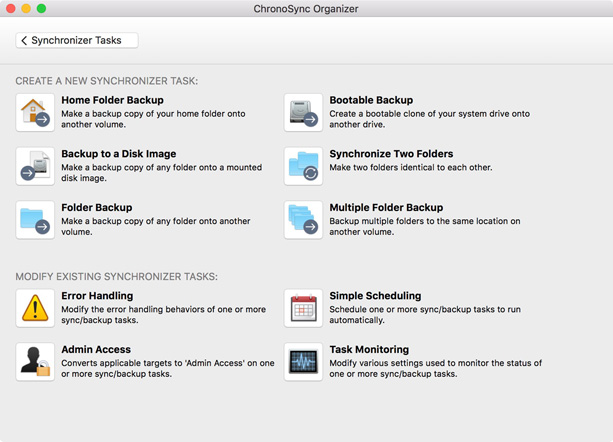 A summary panel will appear to explain the 'Admin Access' assistant. Click on 'Get Started' to set up the assistant.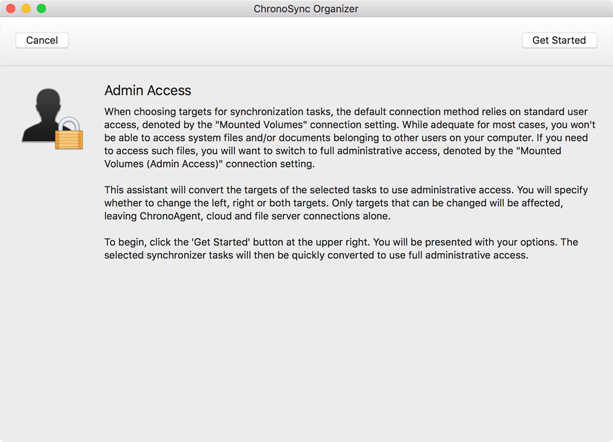 Gaining administrative access requires administrator privileges. Click on 'Request Admin Privileges' to enter in your administrator credentials.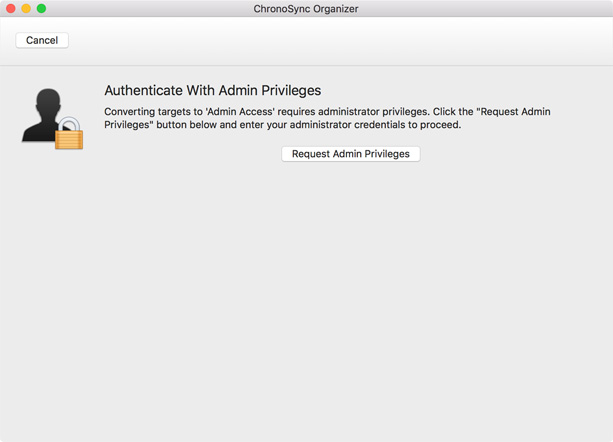 4. SELECT THE TASKS TO MODIFY
[top]
Choose one or more of the tasks in the list that you would like modified. These are all of the backup and synchronization tasks that you have created.
5. TARGET SELECTION
[top]
Choose which target on each of the selected tasks that you would like to convert to Admin Access. You can choose the 'Left', 'Right' or both. Only targets that are set at 'Mounted Volumes' will be converted. Click on 'Next Step.'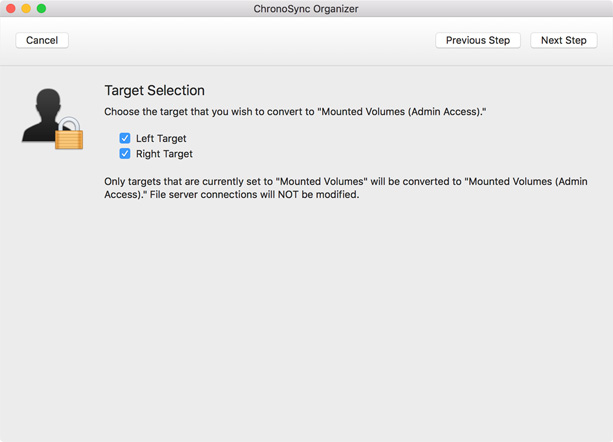 If you've chosen the desired admin access options for your selected tasks, click on 'Convert' to complete the assistant setup.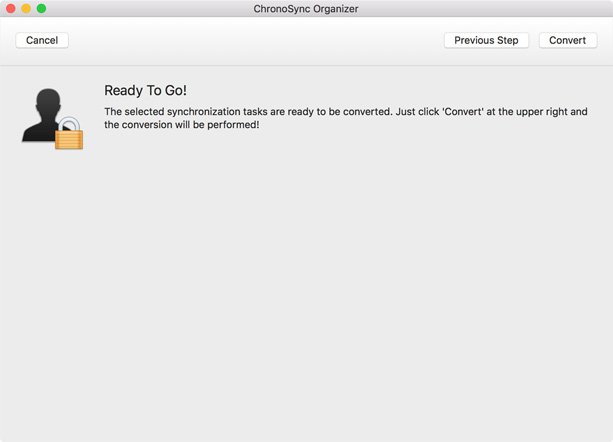 7. TARGETS CONVERTED
[top]
ChronoSync has converted all specified targets to Admin Access for every selected task. If any of the selected tasks were already set for Admin Access, ChronoSync informs you that no changes occurred. Once you 'Close' the assistant, you can choose to make any changes in the tasks, if needed.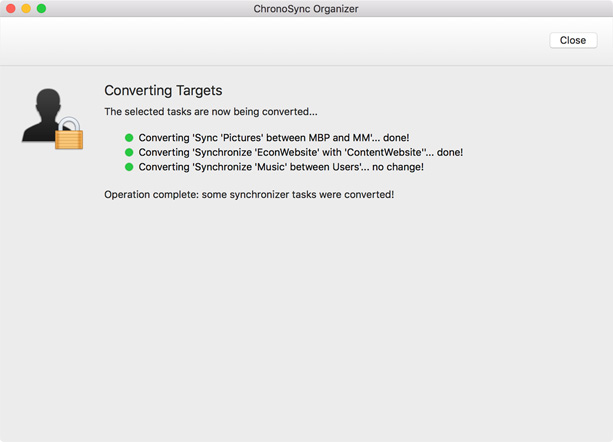 That's it! You now have admin access set for each task you selected. If you need to modify any of the tasks, the setting can be found in the Setup panel.
9. WHEN THINGS GO WRONG
[top]
Using the admin access assistant is pretty straightforward so the above steps should work flawlessly and without incident. If you encounter any problems following this tutorial or you have any questions concerning any of the settings, please contact our technical support team and just ask! We don't mind — we're here to help!