Synchronize. Backup. Bootable Backup.
Whatever your backup or sync scenario, ChronoSync has got you covered!
FILTER FILES & FOLDERS
ChronoSync is designed to be flexible. It can meet the needs of any synchronization or backup strategy, no matter how simple or complex. ChronoSync offers multiple methods to exclude files and folders from your sync/backup task.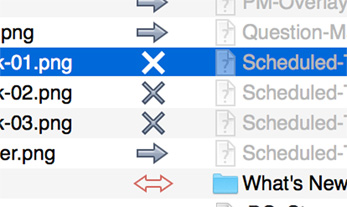 With ChronoSync you can narrow your sync/backup tasks by targeting specific folders, Excluding files & folders, filtering files & rules using Rules, or a combination of these methods.
MANUALLY EXCLUDE
Quickly and easily exclude any files or folders from your target with a click of the mouse.
RULES
Create rules to synchronize or backup folders and files by name, date, size, creator codes, extension, labels, flags, permissions, or any combination of the above, adding intelligence and creating flexibility in the file selection process. For instance, you may want to only synchronize the files in your Pictures folder that contain a specific word in the filename. Just create a rule and only those files will copy over to the destination. Likewise you can exclude any files you want using rules. Perhaps you don't want to synchronize video files that are more than 1 GB in size - a simple file size rule will take care of that!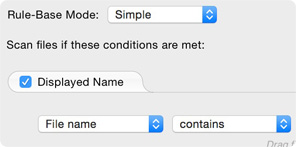 ChronoSync offers three rule-base modes: Simple, Intermediate and Advanced. The 'Simple' mode provides five convenient rules that you can enable to perform rulebase filtering of your synchronization or backup.
The Intermediate and Advanced rule modes allow the creation of custom rules from over a dozen different rule types. You can also choose from over a dozen predefined rule templates.
You can create as many rules as you'd like, combining them in simple or complex boolean expressions. Any set of rules can be saved as a template making it easy to reuse custom rule sets in other synchronizer documents.