Synchronize. Backup. Bootable Backup.
Whatever your backup or sync scenario, ChronoSync has got you covered!
SHARE DATA OVER THE INTERNET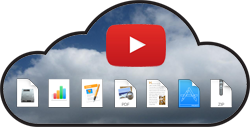 Ever wish you had access to your files no matter the time or place? With ChronoSync, you can backup your files to Amazon S3, Google Cloud and Backblaze B2 storage services so that your data is at your fingertips and readily accessible whenever needed. This new vehicle of data backup expands the many methods ChronoSync can use to connect and sync your files.
EASY AS...

Set up your Connection Profile (Google Cloud | Amazon S3 | Backblaze B2).

Set up your targets. Backup to the cloud just like you would a locally attached hard drive!

Run your backup!
Additional cloud storage services will be implemented in future releases. Please help us decide the next best ones by contacting Support and providing your feedback.
SFTP SERVERS, TOO!
You can securely transfer files between two remote systems by using an SFTP Server connection. Learn how by reading the 'Configure and Backup to an SFTP Server' guide.