Synchronize. Backup. Manual. Automatic.
Whatever your backup or sync scenario, ChronoSync Express has got you covered!
Tasks can be scheduled to run any minute, hour, day, week, month, or any combination you can think of. If your Mac is off and ChronoSync misses a schedule, it will make it up the next time you start your Mac. ChronoSync can even wake up your Mac to run a scheduled synchronization or have the same task run at different time intervals.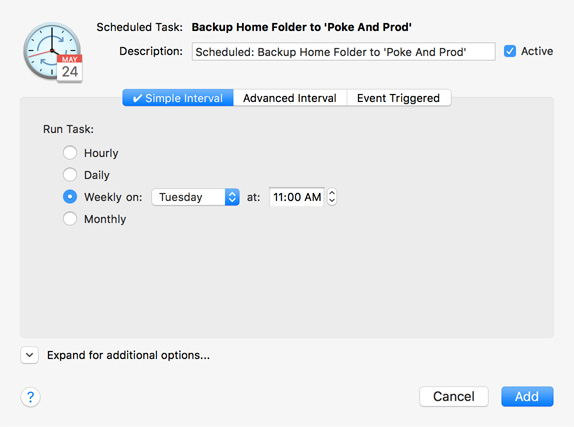 ChronoSync Express does not need to be running when a scheduled event comes due. At the appointed time, ChronoSync Express will launch and perform its synchronization/backup in the background without interfering with your foreground work.

LET CHRONOSYNC EXPRESS ASSIST YOU



Modifier Assistants allow you to choose some or all of your previously created tasks and apply mass changes to them. With the 'SIMPLE SCHEDULING' modifier, schedule one or more sync/backup tasks to run automatically. In addition to supplying a simple scheduling interval, you can optionally enable the 'prompt before running' and 'retry on errors' settings. The assistant will also check your scheduling configuration and suggest changes, if necessary.