Synchronize. Backup. Manual. Automatic.
Whatever your backup or sync scenario, ChronoSync Express has got you covered!
Scheduling allows you to perform a synchronization or backup at a specified interval in an automated manner. Any synchronizer document can be scheduled to run at hourly, daily or weekly intervals. The same synchronizer document can be scheduled to run at multiple intervals e.g. every day at noon, every evening at 8 PM and every Friday at midnight. Different synchronizer documents can be scheduled to run at the same time so you can have several different backups running concurrently. You can even have certain events trigger a synchronization/backup to occur, such as when a particular hard drive is connected or when a computer running ChronoAgent joins the network.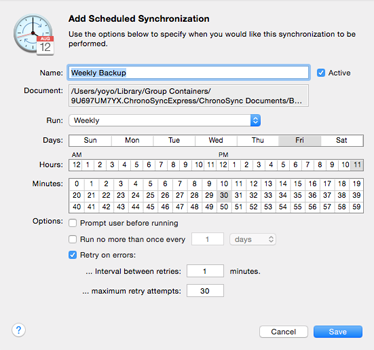 In ChronoSync Express, once your synchronizer document has been configured, it can be scheduled by simply clicking the "Add to Schedule…" button. You're presented with numerous schedule settings as well as options for how to deal with errors that may occur. Clicking Save creates a scheduled item that controls when the operation is performed.
ChronoSync Express does not need to be running when a scheduled event comes due. At the appointed time, ChronoSync Express will launch and perform its synchronization/backup in the background without interfering with your foreground work.