Synchronize. Backup. Manual. Automatic.
Whatever your backup or sync scenario, ChronoSync Express has got you covered!
ChronoSync Express 1.3.5 is Here!
See What's New!
ChronoSync Express is the entry level version of ChronoSync.
It provides the basic file synchronization, backup & scheduling capabilities
found in ChronoSync but at a more affordable price.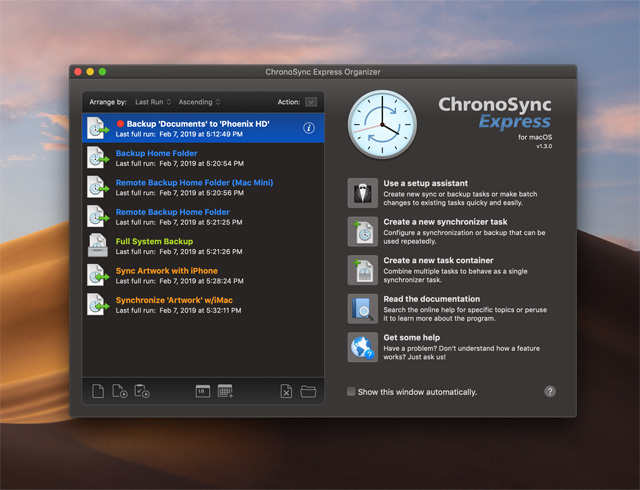 CHRONOSYNC EXPRESS CAN:
Synchronize files between two or more Macs.
Synchronize files with iOS devices running InterConneX.
Backup data to locally attached hard drives, SSDs or flash media.
Backup data to file servers and NAS devices.
Perform remote backups to/from remote Macs running ChronoAgent.
Schedule automatic syncs/backups to run hourly, daily or weekly.
Trigger sync/backup tasks when volumes are mounted.
For more configuration options, scheduling capabilities, cloud backups or higher performance, you'll want to use ChronoSync instead. Check out the differences here.