Synchronize. Backup. Manual. Automatic.
Whatever your backup or sync scenario, ChronoSync Express has got you covered!
Multiple Folder Backup Assistant
1. INTRODUCTION
2. CREATE A NEW SYNCHRONIZER TASK
3. SELECT THE SOURCE FOLDERS
4. SELECT A DESTINATION
5. BACKUP SPECIFIC TYPES OF DATA
6. MAINTAIN AN ARCHIVE
7. NAME THE TASK
8. TASK CREATED
9. CONCLUSION
10. WHEN THINGS GO WRONG
ChronoSync Express can backup the contents of a multiple source folders to a single destination folder on any mounted volume. This assistant will create a synchronizer task that will backup multiple folders that you choose and copy them and their contents to a single destination. The destination folder can be a local hard drive, NAS or mounted file server.
Once completely set up and your multiple folders selected, the Multiple Folder Backup assistant will intelligently determine whether or not a single task can be created by using exclusions, if multiple tasks are required by using a task container, or both.
2. CREATE A NEW SYNCHRONIZER TASK
[top]
From the ChronoSync Express Organizer window, choose 'Use a setup assistant.' This takes you to all of the assistants ChronoSync Express has to offer. For this guide, choose 'Multiple Folder Backup.'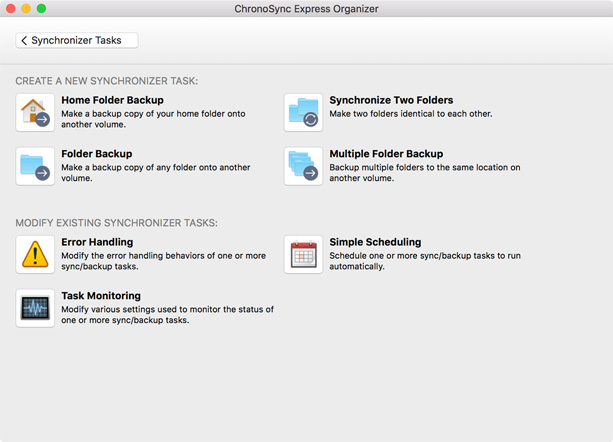 A summary panel will appear to explain the 'Folder Backup' assistant. Click on 'Get Started' to set up the assistant.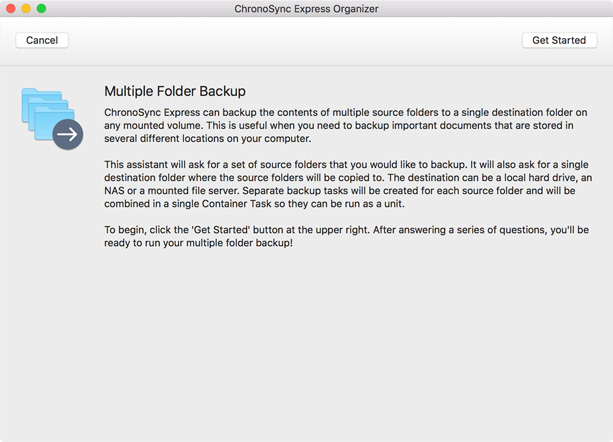 3. SELECT THE SOURCE FOLDERS
[top]
Choose the folders that contains all the data you'd like to backup. ChronoSync Express will backup that folder and all of its subfolders to the destination chosen in the next step. Click on 'Next Step.'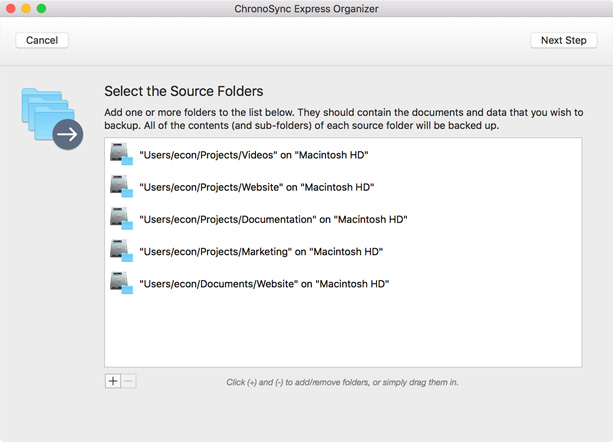 4. SELECT A DESTINATION
[top]
Choose the folder that you'd like to have your source folders, chosen in the previous step, copied to. It can reside on another hard drive, NAS or a file server. Click on 'Next Step.'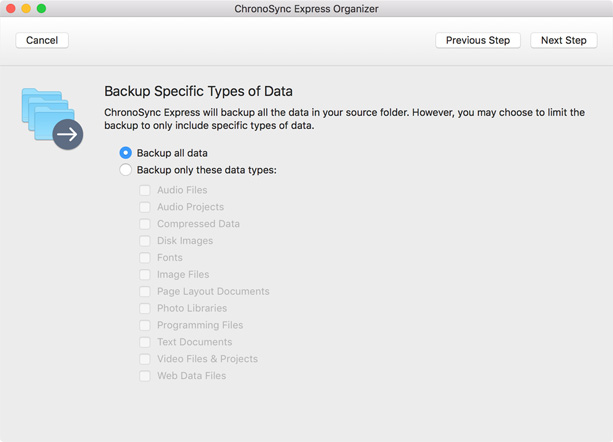 5. BACKUP SPECIFIC TYPES OF DATA
[top]
If you wish to include only certain types of data, you can choose those types on this screen. Otherwise keep the default of backing up all of your data. Click on 'Next Step.'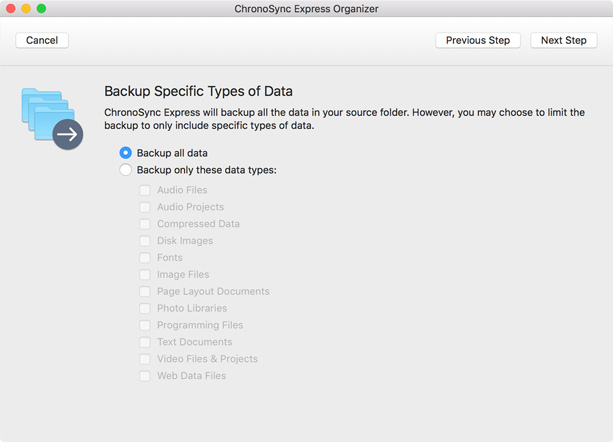 6. MAINTAIN AN ARCHIVE
[top]
ChronoSync Express maintains an archive so that you have access to older files or files that you have deleted, just in case. The archive is a safety net against accidental deletions or changes to files. Determine whether you wish to have an archive and then click on 'Next Step.'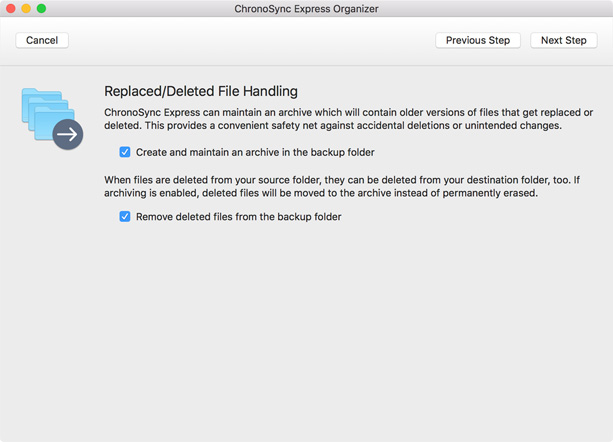 The final step to the 'Multi Folder Backup' assistant is to give it a unique, meaningful name so that you can easily access the task in the future. After naming the task, click on 'Create Task' to complete the assistant setup.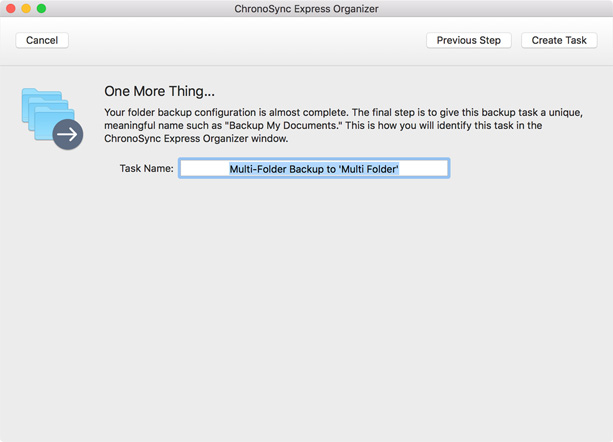 ChronoSync Express has created a new task with the settings specified during the assistant setup. The task is presented to you. From here, you can choose to go through all of the panels of the task document and fine tune options or, to keep things simple, run the task as-is.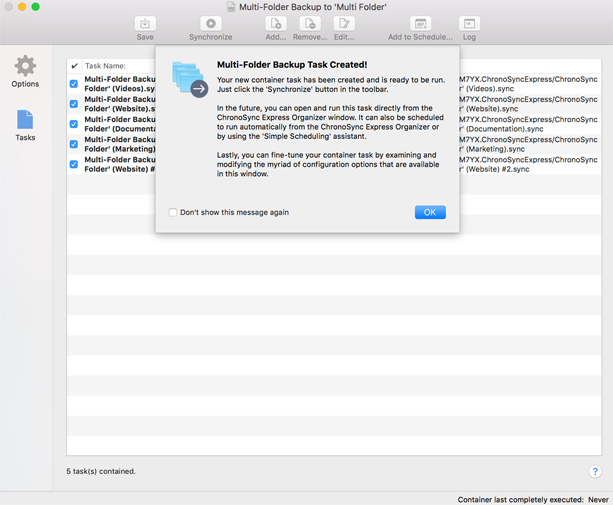 That's it! You now have a task defined to have ChronoSync Express backup multiple folders to a destination. If you need to access this task document in the future, it can be found in the ChronoSync Express Organizer.
10. WHEN THINGS GO WRONG
[top]
Using the multi folder backup assistant is pretty straightforward so the above steps should work flawlessly and without incident. If you encounter any problems following this tutorial or you have any questions concerning any of the settings, please contact our technical support team and just ask! We don't mind — we're here to help!