Keep a Finger on the Pulse of Your ChronoAgents
Monitor your ChronoAgents & receive notifications from ChronoSync.
Update: ChronoMonitor v1.1.4 Released!
ChronoMonitor is an iPhone app that monitors the availability and condition of any ChronoAgents installed on a network. It can report on the general health of an agent, what it has been doing and if updates are available. ChronoMonitor reports details of synchronizations that may be taking place such as the synchronizer document that is running, scanning progress and error counts. It can even receive detailed notification messages when tasks complete. It's the quick and convenient way to ensure all your syncs and backups are running properly!
WITH CHRONOMONITOR YOU CAN: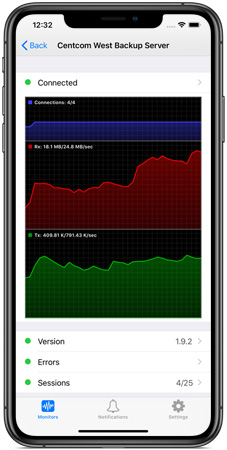 Receive summary results for any syncs and backups.
Get push notification messages from ChronoSync in near real-time.
Categorize messages by originating document and/or device.
Monitor up to 20 ChronoAgents.
Connect to agents on a LAN (WiFi) or WWAN (cellular).
Determine the reachability & running status of an agent.
Identify if an agent is encountering errors such as dropped connections or even crashes.
Detect failed logins, possibly uncovering attempts to crack security.
View the ChronoAgent version number installed on the remote computer.
Detect if ChronoAgent updates are available.
Track activity and load being placed on a ChronoAgent.
All from the convenience of your iPhone, iPad, or iTouch!