Keep a Finger on the Pulse of Your ChronoAgents
Monitor your ChronoAgents & receive notifications from ChronoSync.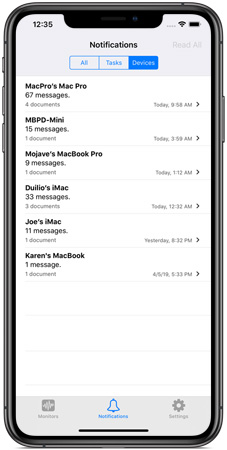 If you've enabled push notifications, tap on the 'Notifications' tab at the bottom center. Here you are presented with a list of all notifications that have been received. You can list every notification by tapping the 'All' button segment at the top of the view. The 'Documents' and 'Devices' segments group the received messages by the originating document name or device. Within the 'Devices' view, messages can further be grouped by documents just on that device. Unread message counts are displayed in parenthesis.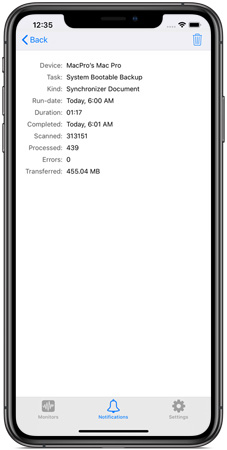 To read details of a particular notification message, simply tap on it in the notifications list. Detailed information is displayed along with an option to view errors (if any were supplied with the notification).