Secure, Reliable, Fast, Fast and Fast!
Simply the best way to synchronize or backup between Macs
Configuring ChronoAgent
1. INTRODUCTION
2. GENERAL PANEL
GIVE A NAME TO THE AGENT
PROVIDE A PORT NUMBER
ADVANCED USER TIP
SUPPLY A USERNAME AND PASSWORD
3. ADVANCED PANEL OPTIONS
MONITOR YOUR AGENT
4. START THE AGENT
5. CONNECTION PROFILE IN CHRONOSYNC
6. WHEN THINGS GO WRONG
ChronoAgent for Mac is a utility that runs on the destination Mac and communicates directly with ChronoSync on the source Mac, giving you full root access, faster synchronizations, and automatic backup options to a destination Mac. There are two steps in connecting ChronoSync to ChronoAgent: setup ChronoAgent on the destination Mac and then, using ChronoSync, setup a Connection Profile on the source Mac that communicates directly with ChronoAgent. This tip explains the first step, configuring ChronoAgent.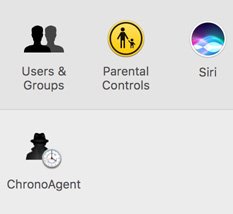 You can find ChronoAgent in the System Preferences, at the bottom of the panel, in what used to be the "Other" section.
The ChronoAgent system preference pane has 4 tabs. The "License" and "Status" panels are self-explanatory. The "General" tab contains all of the controls for setting up the agent. The "Advanced" tab contains a handful of advanced ChronoAgent options, notably the options to set up WAN Accessibility. More attention will be paid to the "General" and "Advanced" panel further down in this guide.
ChronoAgent settings are protected and can only be modified with admin access. The padlock icon needs to be clicked to allow such changes to be made. Optionally, you can click on any of the disabled tabs to be prompted to unlock the panel. All settings need to be established before the agent can be turned ON. Otherwise, starting the agent will not be allowed.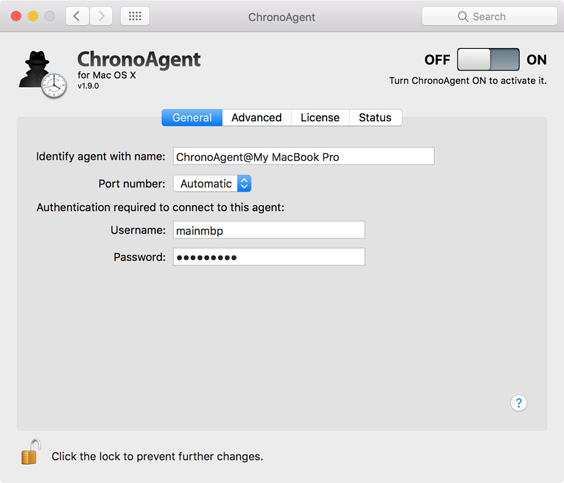 GIVE A NAME TO THE AGENT [top]
The "Identify agent with name" field allows you to provide a name that will be broadcast on the local network. Other computers running ChronoSync or iOS devices running InterConneX will identify this particular agent by the name provided. The default is "ChronoAgent@computername", but it should probably be changed to something more descriptive such as "Receptionist", "Bob's Laptop" or "Central Server". A unique name must be chosen, i.e. two ChronoAgents cannot have the same name.
PROVIDE A PORT NUMBER [top]
The port number is the TCP port number that will be used for all agent communications. Specifying "Automatic" instructs ChronoAgent to choose an available port. Having ChronoAgent choose a port is perfectly acceptable for the majority of people. If you are running a port-level firewall you will need to specify a port.
If you want to assign a fixed port number to ChronoAgent, pick somewhere in the middle of the Private/Dynamic Port Number Ranges to prevent conflicting with other services that may be picking from this range. If the network firewall is enabled, you will have to choose a port number that isn't blocked or, more likely, open that port up in the firewall settings. Using port numbers within the range of 49,152 - 65,535 is recommended, as they are not considered reserved numbers.
If you are using a firewall and need to open up a particular port and/or want to make ChronoAgent available to computers outside of the local network, it is suggested that you pick your own port number, such as "54000", rather than letting ChronoAgent choose one automatically. Otherwise, it is perfectly fine to let ChronoAgent pick the port number.
The steps to opening firewall ports differ between OS's. Keep in mind that ChronoAgent runs on Mac 10.8 and later. If you need an older version that runs on Leopard (macOS 10.5) through Lion (macOS 10.7), click here. If you need an older version of ChronoSync or ChronoAgent that runs on Panther (macOS 10.3) or Tiger (macOS 10.4), send us a request.
SUPPLY A USERNAME AND PASSWORD [top]
The username and password fields simply define a unique username/password that needs to be specified when ChronoSync attempts to connect to this agent. You should choose something reasonably secure and protect its confidentiality because an agent connection provides full access to all files on the computer.
3. ADVANCED PANEL OPTIONS
[top]
The Advanced panel opens up with the "Security" settings showing. The kind of connection you wish to have to your ChronoAgent Mac will influence the options you choose to enable.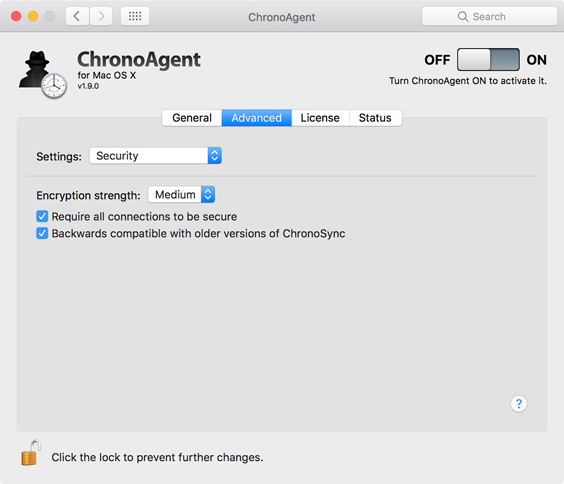 Over in the "Miscellaneous" options, enable "Show ChronoAgent Monitor in the menu bar" if you wish to have a ChronoAgent Monitor menu in your system menu bar. With ChronoAgent Monitor, you can perform minor tasks and view agent information without having to open ChronoAgent.
Slide the "ON/OFF" switch to "ON" to activate the ChronoAgent.
5. CONNECTION PROFILE IN CHRONOSYNC
[top]
Once the ChronoAgent has been configured, a connection can be established by defining connection profiles. This is done in ChronoSync's "Connections" preference pane. Once a connection profile has been defined, its name will appear in the "Connect to:" popup menu in the left and right target areas of ChronoSync's Setup panel. ChronoSync can be configured to connect to any number of ChronoAgents.
6. WHEN THINGS GO WRONG
[top]
If you follow this guide to configure a ChronoAgent, things should work without issue. However, we live in an imperfect world and sometimes things just don't work out as expected. If you encounter any problems following this tutorial, contact our technical support team and just ask! We don't mind — we're here to help!