Secure, Reliable, Fast, Fast and Fast!
Simply the best way to synchronize or backup between Macs
ChronoAgent v1.5 Features
INTRODUCTION
This guide was written to introduce the new features and enhancements of the ChronoAgent 1.5 update. If you have questions regarding ChronoSync, ChronoAgent, InterConneX, or anything else mentioned in this guide, please contact support@econtechnologies.com.
INTERNET CONNECTIVITY
Automatic Router Configuration
ChronoAgent now has several built in features to aid in connecting to the Chronoagent from the Internet. Open ChronoAgent to the Advanced Panel and set the Settings popup to 'WAN Access'. Enable 'Allow agent to automatically configure router to accept incoming connections', then click 'Test Router' to have ChronoAgent automatically open a port on your router.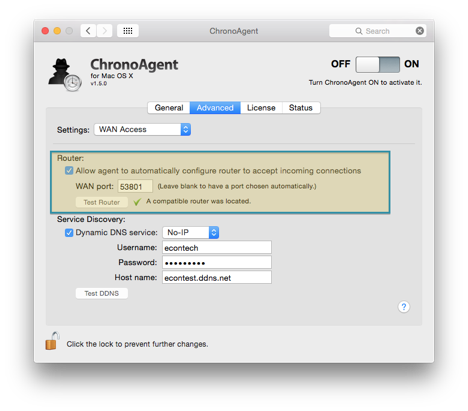 Dynamic DNS Update Client
ChronoAgent now includes a built-in Dynamic DNS update client with support for several of the most popular services. This is useful for those that do not have a static IP address and must sign up for a Dynamic DNS account to connect to the ChronoAgent Mac. ChronoAgent will automatically update your Dynamic DNS account with the IP address that is currently being used by your home connection.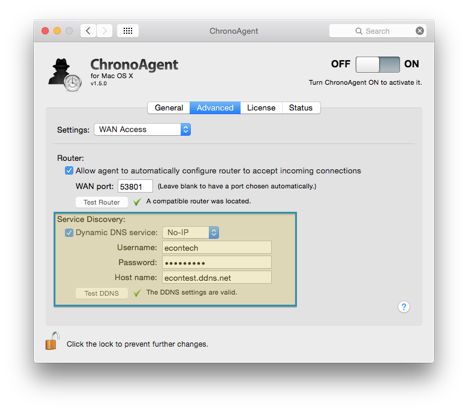 USER PATHS
ChronoAgent also includes the ability to control what is available to ChronoSync and InterConneX clients when they connect to the ChronoAgent Mac. These settings can be found by selecting 'User Paths' from the Settings popup in ChronoAgent's Advanced Panel.
Volume Whitelisting
By default, ChronoAgent will allow you to access any mounted volume on the ChronoAgent Mac when connecting to it. The first setting, 'Limit client path selection to specific volumes', allows you to limit what volumes are available to a client when they connect to the ChronoAgent Mac. For example, in the screenshot below, the 'Storage' volume has been added. For any client that connects to this ChronoAgent Mac, they will only be able to access the contents of the Storage volume.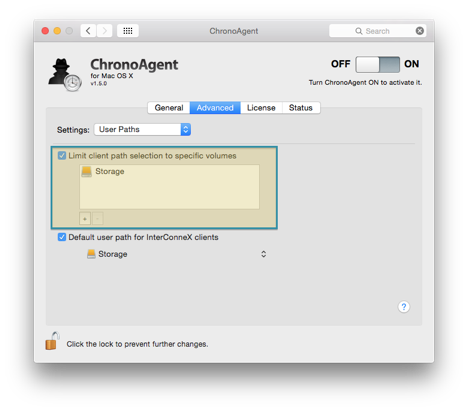 Default User Path
The second setting, 'Default user path for InterConneX clients', allows you to set a default path for clients when they connect to the ChronoAgent Mac in InterConneX. In the screenshot below, ChronoAgent has been configured so that an InterConneX client will only access the Storage volume on that ChronoAgent Mac.
User Paths Tricks
In addition to what's been mentioned above for the user paths features, there are a few tips/examples worth going over for these two features:
Both options work for InterConneX but are independent. What this means is you can specify 'no volumes' (enable 'client path selection' but choose no volumes) but enable and specify a default user path.
Also, you can disable the 'client path selection' feature for ChronoAgent; then after configuring a sync document, turn on the setting so no future sync documents can choose targets but the existing one can. This is a good restriction for users to prevent exposing an entire server to a user.
USER DIRECTORY SERVICES
Another new feature in the ChronoAgent 1.5 update is the ability to easily make ChronoAgent aware of Directory Services if enabled on your network. You'll find this in the User/Group Mapping section of the 'Settings' popup of the Advanced Panel of ChronoAgent.