Synchronize. Backup. Bootable Backup.
Whatever your backup or sync scenario, ChronoSync has got you covered!
Available Now - ChronoSync v4.5!
While the world slept, we've been busily crafting the next generation of ChronoSync. Six months in the making, ChronoSync v4.5 brings 64-bit power, performance and features to your desktop. See for yourself what makes this the best ChronoSync ever!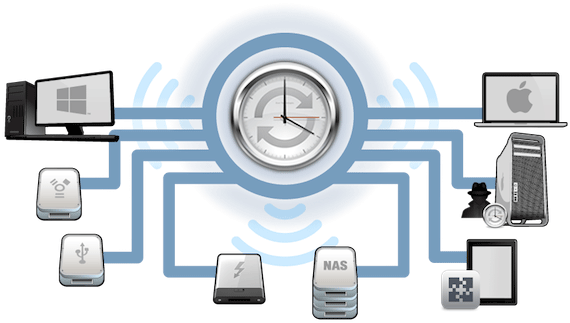 ChronoSync is an application for the Mac that can be used to synchronize or backup sets of files. It can also backup an entire system by creating bootable backups. ChronoSync can synchronize or backup to most anything you can connect to your Mac, including folders on your Mac, other Macs, PC's, and external drives. It can even synchronize or backup to iPads and iPhones using the combination of ChronoSync and InterConneX!